.:| Host Hotel
Executive Royal Hotel in Leduc will be the host hotel for the 2019 AB/NWT AAC Regional Championship. The hotel is located approximately 10 minutes from the trial site and has blocked rooms for the event until May 30, 2019.
The rate is $115 per night plus facility fee and taxes with no pet fee.
Please contact the Executive Royal Hotel directly to book and reference the AAC Regional group!!
Executive Royal Hotel Edmonton Airport
8450 Sparrow Drive
Leduc, AB T9E 7G4

Direct: (780) 986-1840
Toll Free & Reservations: 1-888-202-3770

Email: reservations.erl@royalhotelgroup.ca
Website: royalhoteledmontonairport.ca
.:| Camping/RV
We cannot offer onsite competitor camping due to permits and limited amount of RV's allowed on site. There will be two event support RV's on site but Lions Campground (leduclionsrvpark.com) is less than 10 minutes away.
.:| Off leash parks
Leduc is especially dog friendly and has 2 wonderful off leash parks, one right next to William F Lede Park. Not only that but they have multiple dog poop dispensers all throughout the city if you choose to go for a leisurely stroll and some window shopping. Please be great guests and always remember to Scoop the Poop when out and about with your dog both on and off site.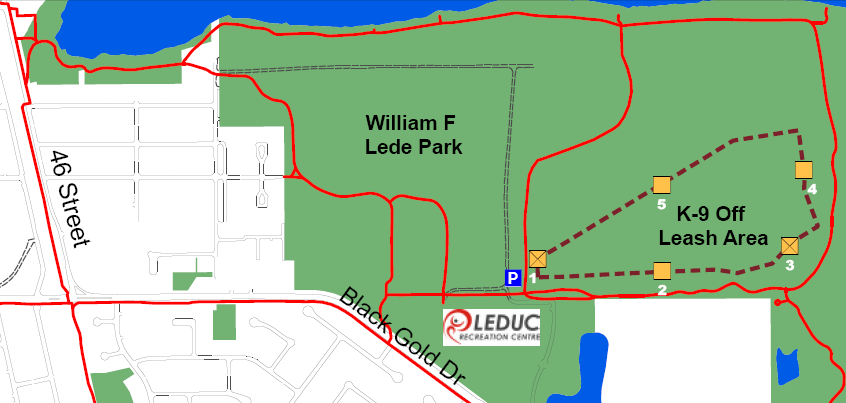 The City of Edmonton also has over 40 off-leash parks with different opportunities for walking and playing with your dog in neighbourhood spaces and the beautiful river valley system. You can check out all of the amazing sites available via the interactive map found here:
www.edmonton.ca/activities_parks_recreation/parks_rivervalley/off-leash-sites.aspx