.:| Directions
The city of Leduc has requested that we avoid going through the residential district.
If you use google maps, put the Leduc Recreation Center in as your destination. The entrance to William F. Lede is to the south east of the LRC (see map)
From Black
Gold Drive

• Turn off Black Gold Drive onto the road that is directly after the Leduc Recreation Center. This road is not currently named.
• Follow the road north past the Rec Centre parking lot until you come to a gravel/dirt road
• Turn left and follow the gravel/dirt road to a T-intersection at 48 Ave
• Turn left on 48 Ave
• Continue to the parking lot at the Rugby fields
• Regionals will be on your left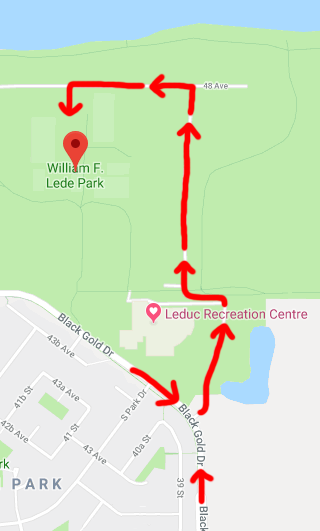 .:| Site Map
Wristbands will be supplied for competitors and their guests and must be worn to access the benching and ring area. There will be night time security patrolling the benching, ring and vendor areas but any belongs left overnight will be left at your own risk.
Shade tent assignments can be found on the Competitors page